Our Staff
Engineering is a people business and we are proud of our staff. In all disciplines, we work using a team structure and have senior engineers overseeing and performing peer reviews of all deliverables. Despite a long history, with over 65 years in the market, Crandall has a core group of young individuals working with senior technical discipline specialists, some of which have over 35 years of experience.
Continuing this way as part of Englobe, our firm focuses on teamwork and team building through mentorship and continuous learning.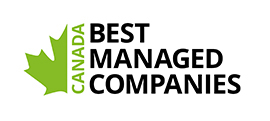 Englobe has been recognized as one of Canada's Best Managed Companies, proof of our commitment to doing more and doing better—for our employees, our clients and our communities.
For 27 years, the program has celebrated Canadian business success and the significant role that private firms like Englobe play in fuelling economic growth and job creation. Read more.